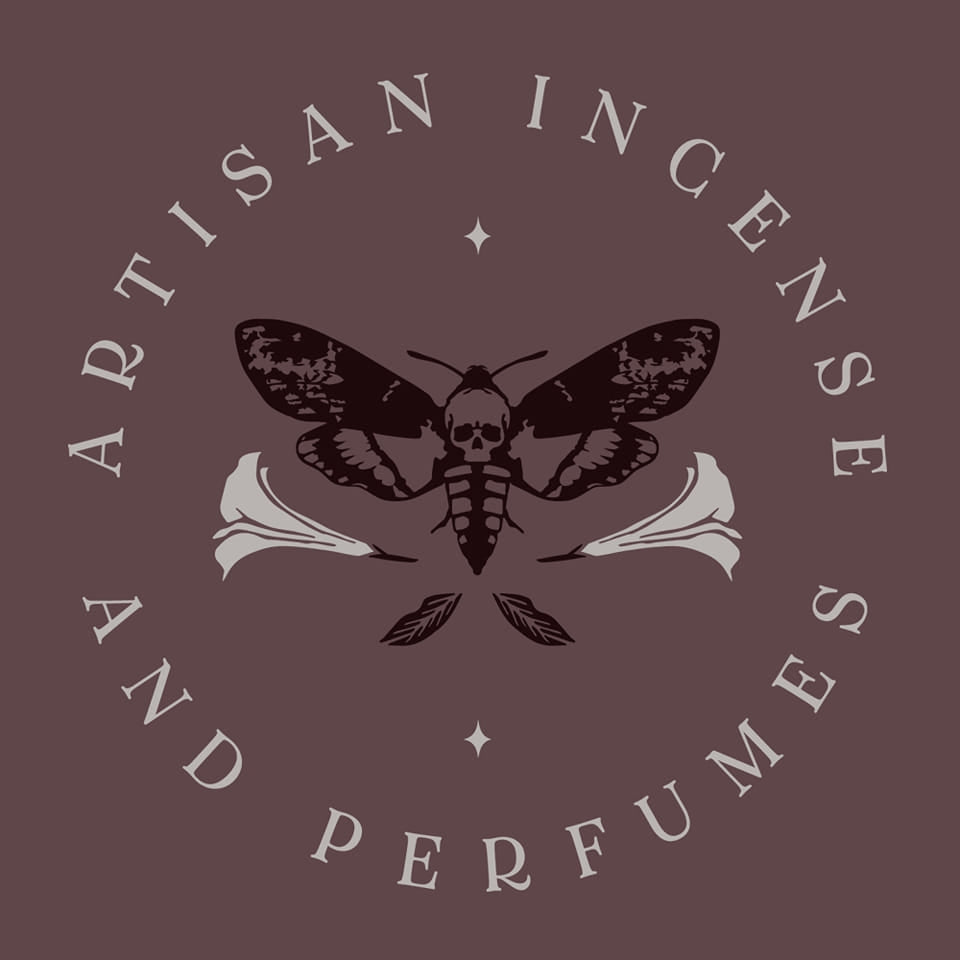 Strange Fire & Fumery Samples
Absinthe*
Conjure the Black Fairy with this sweet, dreamlike aroma of freshly louched absinthe; star anise, wormwood, herbs and warm sugar.

Absinthium Noir*
A visceral blend of two powerful scents tangled together like lovers. The brutish primal lust of Black Goat ascended into a dreamlike haze suffused with the potent herbs and sweet susurrations of Absinthe. Black oak, musk, star anise, warm sugar, and black amber finished with a unique and dreamy herbal blend.

Atelier*
Is there any more sacred space than the workshop? Atelier is an incense designed to be conducive to creative work; clean, but not cloying. Stimulating, but not distracting. Whether your work temple is a studio bathed in sunlight, or a dark closet where you labor, hunched over a desk trying to finish that novel, Atelier invokes wide, clean floors, lofty ceilings and lofty ideas. Using pensive elderflower and bright plumeria, it clears an inviting creative space within. A great floral scent for people who don't like floral scents.

Black Goat
Primeval oak, foraged spice blend, smoky patchouli, musk. Black Goat is an otherworldly blend of ancient oak forest, decadent black amber, earthy musk and a unique blend of foraged spices. It is irresistible on application and gives a complex dry-down that is well suited to all manner of indulgences and dark deeds.

Cara Mia*
Simple and elegant, dark as the night, but sophisticated and supple as black velvet dress. Cara Mia is a trip to a midnight rose garden, backed with the decadent brooding sweetness of black currant.

Dandelion
Saddle leather, sandalwood, vanilla absolute, buttercups and spring florals.

Esoteric
Patchouli, Nag Champa, cannabis, clove. Esoteric is a love letter to the liminal occult bookstores, head shops, and underground points of initiation that shaped our young lives. This fragrance captures the unforgettable sensory experience of walking into these spaces, forbidden bazaars full of exotic scents, books full of strange ideas, and some of the most interesting people you'd ever meet.

Euphoria
Smoky patchouli, vetiver, trumpet lilies, Datura metel, three oaks and Persephonian pomegranate. Smoky patchouli, vetiver and a gorgeous oak accord create a heady but understated foundation, in which beautifully fragrant trumpet lilies, the sweet nightsong of Datura, and the most decadent, blood-red rush of pomegranate combine into a singular note that is almost impossible to tease out into its components parts. A sensual allure that will leave them curious and craving.

Existential Dread*
You wouldn't believe me if I told you.

Lascivia
House dragonsblood blend, vanilla accord, Kentucky bourbon, papaya. The beloved Fumery house dragonsblood is a lusty blend containing notes of amber, woods, rose, jasmine, and patchouli. Next is a snifter of aged Kentucky bourbon, a subtle but enticing note that hints at hedonistic decadence and adds a layer of interest. A luxurious vanilla accord selected for the dreamiest properties forms the heart of the fragrance, and a top note of pure papaya brings Lascivia into one fully integrated note of raw sensuality with a hint of exotic sweetness that entices noses and begs for lips.

Lilac and Gooseberries
Two notes. Lilac, and gooseberries.

Lothario*
A blend of dragonsblood, vanilla and Kentucky Bourbon.

May Queen*
Geranium, daisies, meadow greens, vetiver, mead, a unique blend of red and blue musks.

Rook*
Wet leaves, musky black feathers, slow vetiver, a stiff branch, the slow death-creep of Autumn, a fussy Underworld messenger.

Swallow
Warm wool, snowy forest, campfire, spruce tips, white musk accord.

Thots & Pears*
Redwood, aloe, Comice pear, and a dusting of a house emulsion of amber and vanilla bean accord.
Trollrökelse*
Inspired by a Swedish recipe for incense to drive away evil spirits, but we all know humans are the true menace. Trollrökelse is a sweet, earthy stink guaranteed to drive flowery, entitled man-filth right out of your troll hole, with a goblin-approved blend of pungent neroli, damp-earth patchouli, and a savory mouthful of woody pinon.

The White Wolf
Spruce, tight black Russian leather, black pepper, a heady blend of European musks, vetiver.
Venutian Musk
This scent was a challenge in execution to find the most authentic night-blooming jasmine note and play it with passion against a sultry Egyptian red musk, white amber, warm pumpkin, and subtle notes of lavender and sandalwood. It is a sensuous and sweet floral musk with a foundation in expertly balanced traditional romantic notes to create and sustain desire through a storied dry-down.
Night-blooming jasmine, Egyptian red musk, white amber, pumpkin, lavender, sandalwood

Full sized bottles are stocked at Strange Fire & Fumery.
RTS conditions:  These items are in our studio! Your order will join the processing queue when you checkout. Processing time is up to 14 business days. Business days do not include holidays or weekends.
To estimate when your order is likely to be heading out, keep an eye on th RTS section of the Status Page
Items are hand-filled and may vary slightly. Below are the manufacturer's suggested fill volumes per size. Ajevie sample will usually have a smidge more

Perfume Oil Slinks/Samples = .74 ml vials

Perfume Oil Slonks = .92 ml bottles

Perfume Oil Chonks = 2.3 ml bottles

Perfume Oil Drams = 1 Dram (3.7 ml) bottles

Various Slink Sprays = 2.6 ml spray vials

Various Chonk Sprays = 1 oz spray bottles

Fulls = Original retail bottles from source

Share