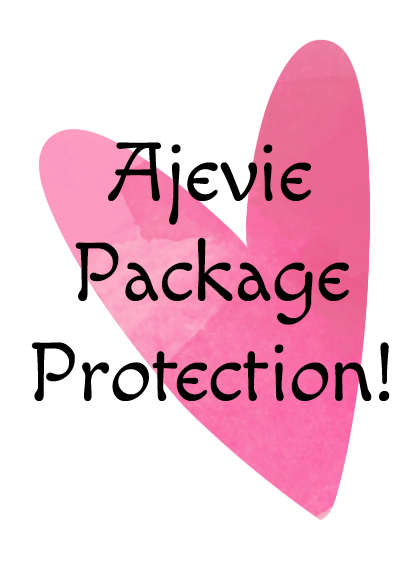 ShippingSPackage provides protection for shipments that are lost, broken, or stolen. Add Package Protection to your cart at checkout to enable protection!
No apps or downloads required!  No additional spammy emails!
What it is
Insurance for your package!
Add package protection at checkout and rest assured you'll be covered in case your order gets lost, damaged, or stolen in transit. Keep your eye out for Package Protection in your checkout options! 
Ajevie Package Protection does NOT cover the following...
- Anything outside the time frames stated above
- Taxes, Duties, Shipping costs
- Incorrect Shipping Addresses (as submitted by the customer)
- Unprotected packages
Concerned about an UNinsured package?  You can still ask USPS to do a search!

Why use Package Protection?
No one likes postage hassle, but sometimes it happens and you want coverage when it does!  Package Protection means that if your package is lost, stolen, or damaged in transit your purchased products will either be replaced or refunded!
Customer Cost
$1.25 per order!
A Note on Combined Orders: Package Protection can only cover items that were included in the purchase that Package Protection was selected on.  If Protection was only used for some orders in your shipment, only those specific orders are covered.
Package Protection CAN be added to an order retroactively.
Reporting an issue
Just send us an email (angi@ajevie.com) to let us know what's happened!
- Damages can be reported as soon as they are delivered and up to 15 days after delivery.  Pictures of the damaged product and packaging will be required.
- Lost Shipments can be reported if they have not moved in 7 - 30 days for domestic, 20 to 30 days for International.
- For Stolen shipments report within 5 to 15 days after delivery.  (You should also contact your delivering Post Office to be sure they cannot recover the package directly.)  Stolen orders over $100 will require a police report (which in most cases can be filed online.)