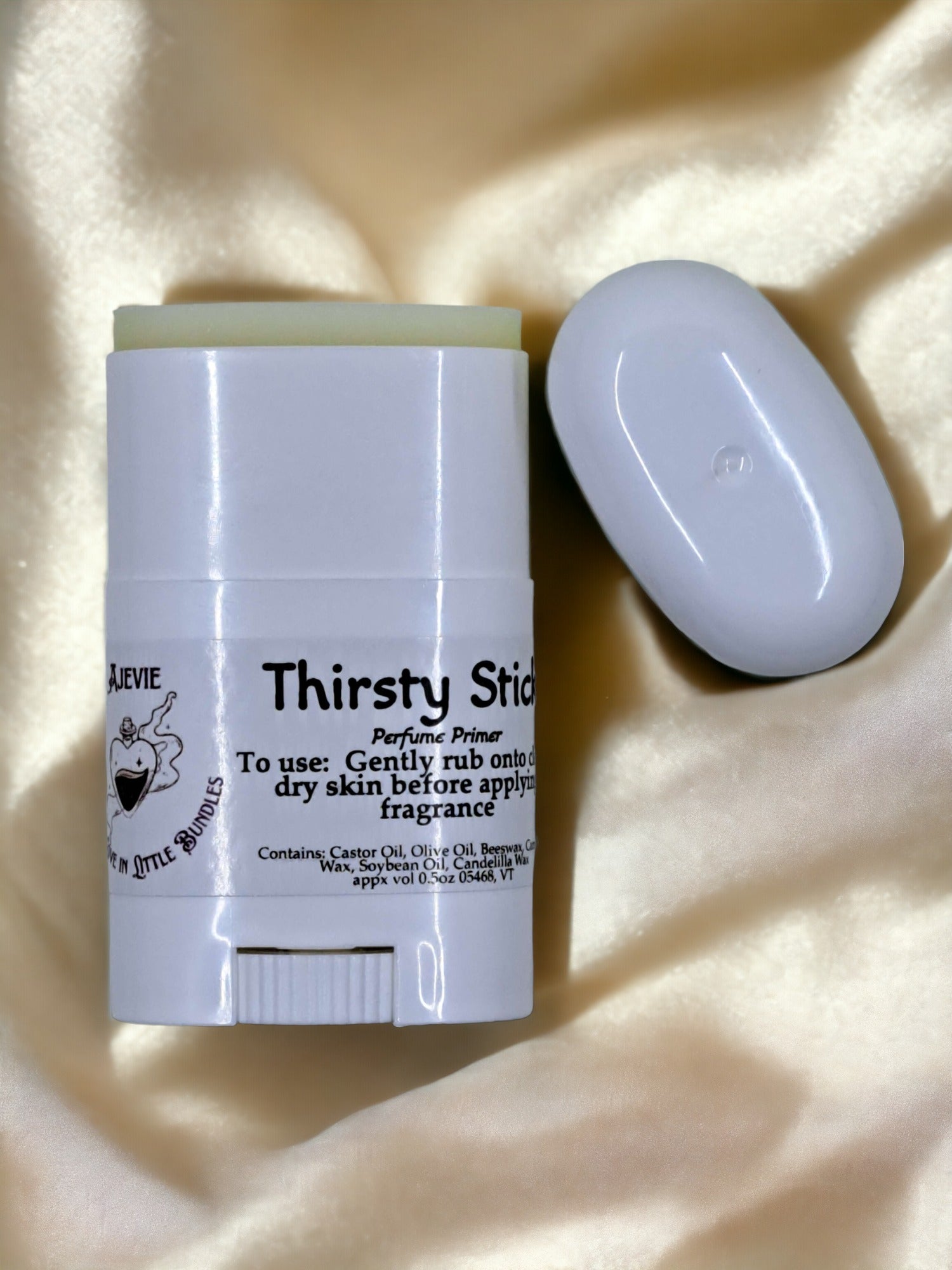 Ajevie ❤'s Thirsty Stick: Perfume Primer
Tired of having scents not last as long as you'd like? Apply some Thirsty Stick before hand and your skin won't absorb the perfume as quickly, allowing you to smell great for longer!
To Use: Apply liberally to clean, bare skin before applying perfume oil over top of balm
Ingredients: Castor Oil, Olive Oil, Beeswax, Carnauba Wax, Soybean Oil, Candelilla Wax
appx vol 0.5oz
Do not Ingest, External Use Only, Keep Out of Eyes.
Made in Milton, VT 05468
RTS conditions:  These items are in our studio! Your order will join the processing queue when you checkout. Processing time is up to 14 business days. Business days do not include holidays or weekends.
To estimate when your order is likely to be heading out, keep an eye on th RTS section of the Status Page
Items are hand-filled and may vary slightly. Below are the manufacturer's suggested fill volumes per size. Ajevie sample will usually have a smidge more

Perfume Oil Slinks/Samples = .74 ml vials

Perfume Oil Slonks = .92 ml bottles

Perfume Oil Chonks = 2.3 ml bottles

Perfume Oil Drams = 1 Dram (3.7 ml) bottles

Various Slink Sprays = 2.6 ml spray vials

Various Chonk Sprays = 1 oz spray bottles

Fulls = Original retail bottles from source

Share