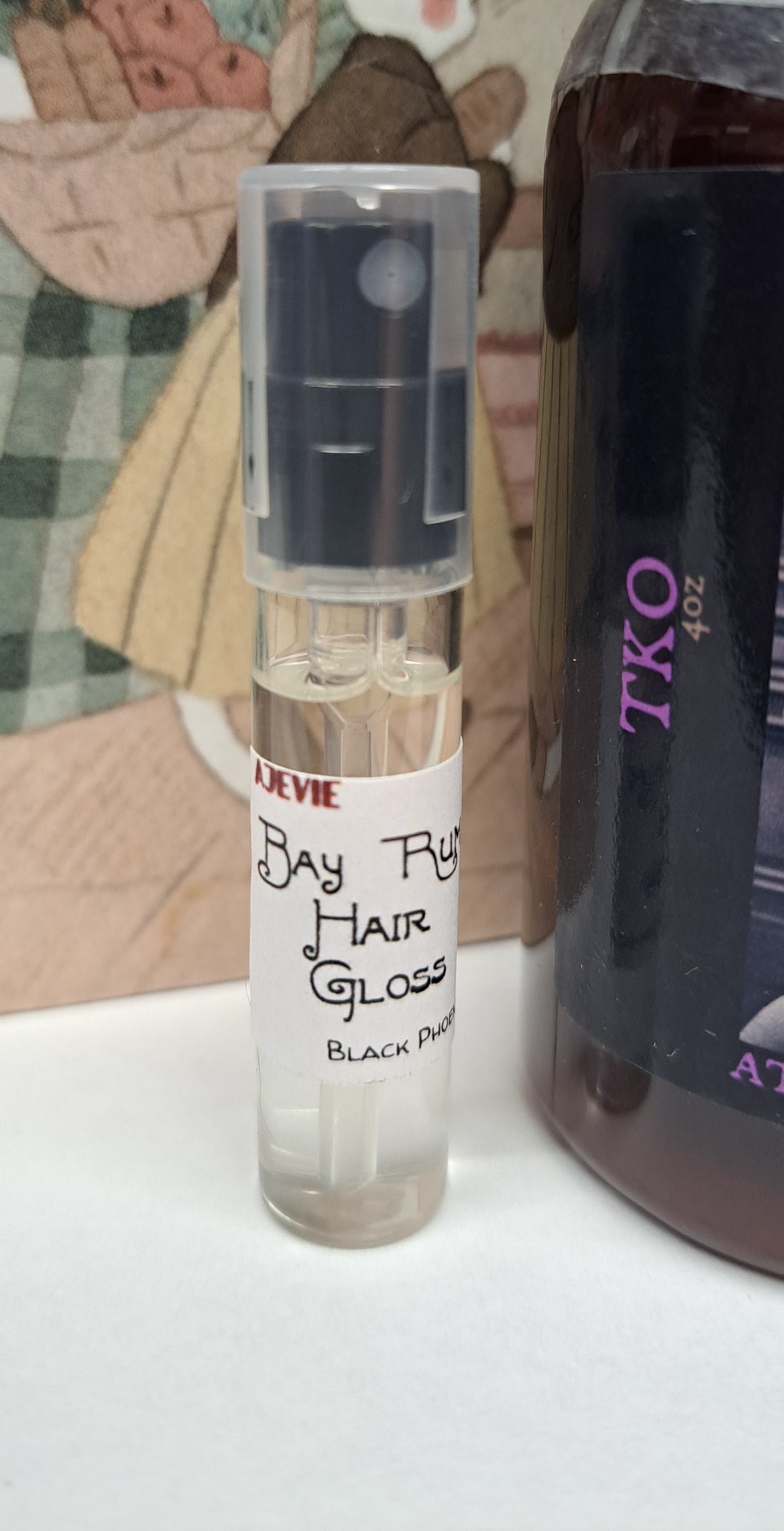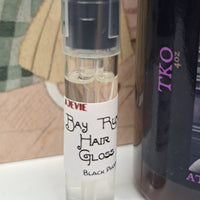 Black Phoenix Atmos & Hair Gloss
Description
Pre-Order Conditions
Sizes
RTS
Alchemical Laboratory
Frankincense, benzoin, opoponax, rose geranium, daemonorops, and cinnabar accord.

Bone-Fire Atmos
Sparks of red peppercorns, blue-white eucalyptus leaf, and daemonorops draco against smoldering red amber and a copper sulfate-green licks of flame.

Bone Orchard Atmos
Clacking white sandalwood bones, grave soil, and the bruise-purple fruits of death and decay.

Cathouse Atmos
A nineteenth century Southern bordello: magnolia, jasmine, honey musk, tobacco, vanilla bean, bourbon vanilla, and Spanish moss.

Crocodile Bar Atmos
Cedar shavings, a swirl of booze, a flattened French fry, and barbeque sauce.

Doc Constantine's Medicine Show Atmos
Polished wood, olibanum, questionable medicinal herbs, sarsaparilla, and a splash of bay rum.

Down the Rabbit Hole Atmos
Daisies and dirt with a hint of orange marmalade, dry leaves, and crunchy old sticks.

Dorian Hair Gloss
This blend is an artful deception: a sweet gilded blossom lying over a twisted and corrupted core. A Victorian fougere with three pale musks and dark, sugared vanilla tea.

Exotic Bazaar Atmos
Nepalese amber, white sandalwood, black peppercorn, ambrette seed, neroli, coconut sugar, cardamom pods, ginger, fennel, bitter almond, liquorice root, henna, copaiba balsam, and spikenard.

Fae Forest Atmos
Mist-shrouded woods: Siberian fir needles, white pine bark, aspen leaf, wild lily, bergamot, wood violet, thimbleberry, sun-star, golden bell, snowdrop, heartsease, and bloodroot.

Fainting Couch Atmos
Lush velvet cushions and prim tea rose, a splash of rose water on a lace doily, strong black tea, a whiff of pomander, and an orris root sachet.

The Hall of Forgotten Gods Atmos
Ancient incense and charred sacrifices echoing through time.

Ibis and Jacquel's Funeral Parlor Atmos
Egyptian embalming compound: beeswax and fir resin, myrrh, natron salt, cassia, palm wine, lichen, henna, and camphor.

Lakeside Home Atmos
Perfect wholesomeness: green grass, summer daisies, spring daffodils, and bake sale cookies bought with blood and terror, all frozen beneath a sheet of thick black ice.

Lich's Laboratory Atmos
Hissing vials of acid, swirls of thick incense, creeping mosses, flecks of grave loam, and noxious potions clutter the blackened stone biers of an abandoned burial vault.

Morocco Hair Gloss
The intoxicating perfume of heady incenses wafting on warm desert breezes. Arabian spices wind through a blend of warm musk, carnation, red sandalwood and cassia.

Mr. Nancy's House Atmos
The ghosts of long-dead cookies, whirring palmetto bugs, cigarillo smoke, and crawling things that scuttle and click.

Saloon #10 Atmos
Nuttal & Mann's Saloon No. 10, Deadwood, Black Hills, Dakota Territory: sweaty leather, chewing tobacco, and Red Eye.

Snake Oil Hair Gloss
Snake Oil has shed its skin, and is back — now with vintage patchouli and dark, rich, aged vanilla absolute. Snake Oil is our signature scent, our first perfume: deep, rich, earthy notes swirled with vegetal musks, sugared vanilla bean, and dark spices.

Think Snow for Me Atmos
Snow upon snow upon snow.

TKO Atmos
"Many things – such as loving, going to sleep, or behaving unaffectedly – are done worst when we try hardest to do them."

The Trackless Erg Atmos
The merciless sun pounds on a sea of endless, wind-battered sand: desolate, lifeless, silent, and without end.

Unspeakable Evil Temple Atmos
A profane blend of opoponax, galangal root, dried mosses, wormwood accord, sandarac, frankincense, myrrh, and black copal.

Wererat-Infested Sewer Atmos
Moist, moss-crusted stone, stagnant, silty wastewater, wererat musk, and wet leather.
Full sized bottles are stocked at Black Phoenix Alchemy Lab. As limited edition collections, these scents will be allowed to sell out. Black Phoenix Alchemy Lab have had a well developed decanter culture which I have been a part of for many, many years. While I communicate with them on the regular, they are not an official Ajevie partner and to support the traditions already in place, all Black Phoenix LE Samples are non-profit on my end.
Pre-order conditions:  These items have not yet arrived at our studio. Once it reaches us this collection will take up to 14 business days to process before it is shipped out to you.
While we work as quickly as humanly possible, we Do Not Guarantee that you will always have your samples while the manufacturer has the scent available. This is especially true for super small release windows such as for special holidays that may only be online a few days or collections with a limited production.
To estimate when your order is likely to be heading out, keep an eye on the Status of ordered items and do keep in mind the perfumer's turn around time as well.  Official brand TATs are also listed on the bottom of the Status Page.
Items are hand-filled and may vary slightly. Below are the manufacturer's suggested fill volumes per size. Ajevie sample will usually have a smidge more

Perfume Oil Slinks/Samples = .74 ml vials

Perfume Oil Slonks = .92 ml bottles

Perfume Oil Chonks = 2.3 ml bottles

Perfume Oil Drams = 1 Dram (3.7 ml) bottles

Various Slink Sprays = 2.6 ml spray vials

Various Chonk Sprays = 1 oz spray bottles

Fulls = Original retail bottles from source