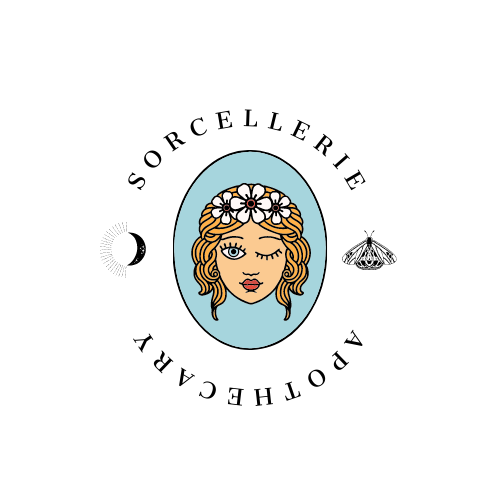 Sorcellerie Apothecary GC Samples
Will be Restocked Monthly!

2 AM in Lafayette
Vanilla co2, oakmoss, cafe au lait, ribbons of caramel, beignets dusted with powdered sugar

Aliens Go Ice Skating
Winter air, sparkling snow, iris, black pepper, Indian vetiver, peru balsam, cocoa butter, tonka bean butter, tonka bean absolute, cashmere scarves, and a strangely colored sky.

The Ancient Waters of Venus
An opening of bright, sugared lychee with a hint of almond softens to a delicate blend of pink lotus absolute, peony, siam wood, cool water and rising mist.

A Party, Or Something
Marigolds, yellow cake, white chocolate, pistachio buttercream, Iso E Super, Cashmeran

A Witch's Valentine
Marshmallow, Moroccan rose absolute, raspberry puree, white chocolate, the softest suede

Between The Sheets
Figs, cream, beeswax absolute, cashmere, wool, skin musk

Clairsentient
A fizzy blackberry, raspberry and bergamot cocktail, spun sugar, juniper berries, floaty vanilla, Iso E Super

The Cookie Party
Mouthwatering, buttery toffee, hot cocoa with floofy marshmallow, mounds of coconut, and pecan shortbread cookies

Fuckery
Luxardo cherry, caramelized sugar, vanilla, cinnamon, sandalwood, tobacco absolute, smoke, night air, clean sheets

Her Kind
Amber, musk, sandalwood, benzoin, Cashmeran, myrrh, vanilla, wisps of smoke

I Think About You, Too
Wild orange, petitgrain, orange blossom, caramelized sugar, Ambroxan

Mermaids Sing of Lost Lovers
Grenadine, heady Egyptian jasmine absolute, ylang ylang, white chocolate, caramel, ambergris

Moon Magic
Lavender sugar, vanilla steamed milk, chai spices, tonka bean, Cashmeran, Ambroxan, crystals charged by the moonlight (our crystal accord)

Reduced to a Thing That Wants You
Yellow mandarin, pink pepper, tuberose, vanilla bean, marshmallow cream, sandalwood, nutmeg, sheer amber, warm skin and clean sheets

She's A Witch
Pizzelle cookies studded with anise seeds and dusted with powdered sugar; heliotrope, soft woods, musk

Something Wicked
Vanilla, patchouli, sandalwood, whiskey

Strings of Light in the Forest
Vanilla milkshake, vetiver, lavender, beeswax absolute, golden orbs of amber, Ambroxan

Villanelle's Happy Ending
Pink pepper, strawberry milk, vanilla, cherry blossom, Cashmeran, creamy dreamy sandalwood, cedar, cyanide

We Are All Stardust
Sandalwood nut co2, Australian sandalwood, beeswax absolute, Iso E Super, Ambroxan, labdanum, vanilla

What Big Eyes You Have
Immortelle absolute, lemon meringue pie, pearlescent vanilla musk
Full sized bottles are stocked at Sorcellerie Apothecary. As limited edition collections, these scents will be allowed to sell out.
RTS conditions:  These items are in our studio! Your order will join the processing queue when you checkout. Processing time is up to 14 business days. Business days do not include holidays or weekends.
To estimate when your order is likely to be heading out, keep an eye on th RTS section of the Status Page
Items are hand-filled and may vary slightly. Below are the manufacturer's suggested fill volumes per size. Ajevie sample will usually have a smidge more

Perfume Oil Slinks/Samples = .74 ml vials

Perfume Oil Slonks = .92 ml bottles

Perfume Oil Chonks = 2.3 ml bottles

Perfume Oil Drams = 1 Dram (3.7 ml) bottles

Various Slink Sprays = 2.6 ml spray vials

Various Chonk Sprays = 1 oz spray bottles

Fulls = Original retail bottles from source

Share